Configure CSF on your AWS instance
March 5, 2021 / Nirav Shah
Config Server Firewall (popularly known as CSF) is a free and open-source firewall application suite for most Linux distributions and Linux based Virtual Private Servers (VPS). It provides the basic functionality of a firewall – filtering packets while also providing additional security to your server.
To verify the required firewall modules command:
perl /usr/local/csf/bin/csftest.pl
Everything should be fine and you should get the following output:


nano /etc/csf/csf.conf
Certain ports are opened by default, and these ports are given below:


The services using the open ports
Port 110: Post office protocol v3 (POP3)
Port 113: Authentication service/identification protocol
Port 123: Network time protocol (NTP)
Port 143: Internet message access protocol (IMAP)
Port 443: Hypertext transfer protocol over SSL/TLS (HTTPS)
Port 465: URL Rendezvous Directory for SSM (Cisco)
Port 587: E-mail message submission (SMTP)
Port 993: Internet message access protocol over SSL (IMAPS)
Port 995: Post office protocol 3 over TLS/SSL (POP3S)
The ports most needed at any time on any server are:
TCP_IN: 22,53
TCP_OUT: 22,53,80,113,443
UPD_IN: 53
UPD_OUT: 53,113,123
After changing the settings in csf.conf, you should save the files and restart CSF for the changes to take effect with this command:
csf -r
Blocking and Allowing IP Addresses
Blocking IP addresses
If you would like to block an IP address or range, open csf.deny with the command below:
nano /etc/csf/csf.deny
Below is the default csf.deny file as it contains no entries.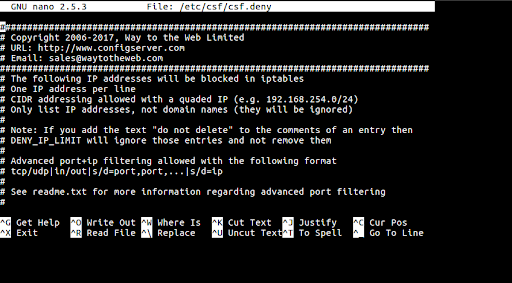 To block a specific IP address, add it to the file:
– 196.xx.xx.xx To block a range of IP addresses, add the IP followed by the CIDR Value
– 196.xx.xx.xx/29.
Allowing IP addresses
nano /etc/csf/csf.allow
Below is the default csf.allow file as it contains no entries.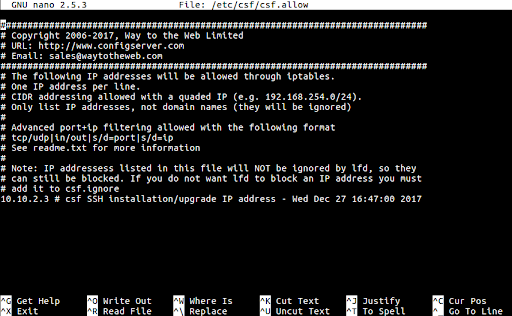 You can also allow a specific IP and a range of IP addresses without opening the csf.deny file but by running the commands below:

csf -a 196.x.x.x
csf -ar 196.x.x.x

Note: Allowed IP addresses are allowed even if they are explicitly blocked in a csf.deny file.