Amazon WorkSpaces: Next Generation of Remote Work and Corporate Work Culture
March 25, 2020 / Nirav Shah
In this digital age, where work is more important than the place from where it's done, remote work is no less than a blessing. Remote work or work-from-home is an awesome concept that let's an enterprise to give their employees freedom to work from anywhere around the globe and be secure at the same time. This blog assumes you have an AWS account. If you do not have one and are starting out fresh, please contact us and we will help you setup the same.
What is AWS WorkSpaces?
In simple words, It is your desktop-on-the-cloud which you can use from anywhere in the world. For techies, we can say that it's Fully-managed,secure Cloud Desktop Service. This service helps you to create virtual, cloud-based Microsoft Windows or Amazon Linux based desktops for your employees. As of writing this blog, Amazon AWS is offering WorkSpaces for up to 50 users at no charge for new WorkSpaces customers, offered from beginning of April 1st, 2020 through June 30, 2020. This offer will include our Standard, Value, and Performance bundles. You can check more details at this link: https://aws.amazon.com/workspaces/pricing/
Features Of AWS Workspace
Functionality
If you manage either traditional desktops or an on-site solution for a Virtual Desktop Infrastructure (VDI), it requires a huge investment of capital, and it is difficult to deploy and manage.so Using a virtual desktop via cloud eliminates the upfront costs and the need for managing the desktop, because all of these will be taken care of by Amazon. It will be cost-effective, user-friendly and broadly accessible desktop experience for your users.
Amazon WorkSpaces Bundles
So first you have to choose different Bundles that Workspaces provided, After selecting the Bundles you will receive a mail to proceed further by connecting them.You can also create a custom image of your WorkSpace and create your own installed software bundle.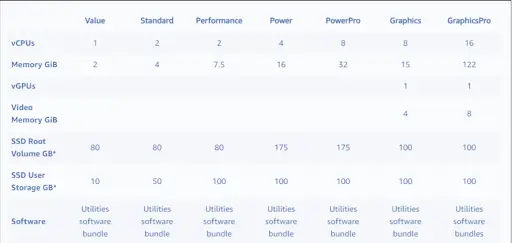 Pre-installed software bundles are Microsoft Office and Trend Micro Worry-Free Business Security Services, and you can choose from Value plus, Standard plus, Performance plus, Power plus, PowerPro plus, Graphics plus, or GraphicsPro plus bundles.
Allowing to bring your own licenses
You can bring your own Windows desktop licenses to WorkSpace and run them on the hardware dedicated to you.
Persistent Storage
A varying amount of persistent storage will be provided according to the bundle you have selected. The data that users store on their volume provided by WorkSpace is backed up to Amazon S3, so it provides reliability.
For more deatils please visit this link: https://aws.amazon.com/workspaces/features/?nc=sn&loc=2
Creating an Amazon WorkSpace on AWS Console
Step 1
Type WorkSpaces on AWS Console and click on the WorkSpaces option.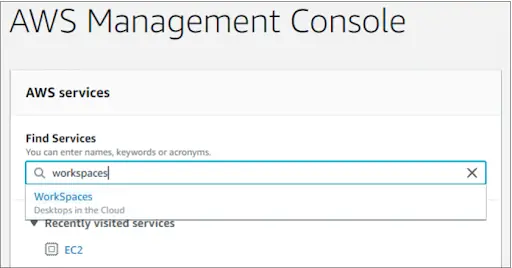 Click on Get Started Now..
Step 2
After Click on Quick Setup please Choose the required operating system
and After that provide username,password,and nd proceed with Launch WorkSpaces




and just Click on Launch work spaces
Step 3
Now you will see the pending status of WorkSpace and Wait until the status of your WorkSpace changes from Pending to Available.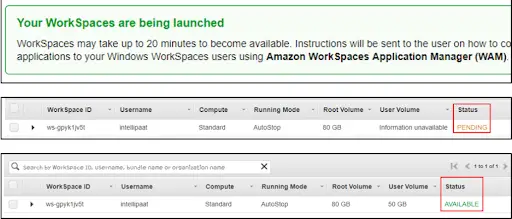 After the Amazon WorkSpace turns Available, you will receive a mail from AWS as shown in the below Image.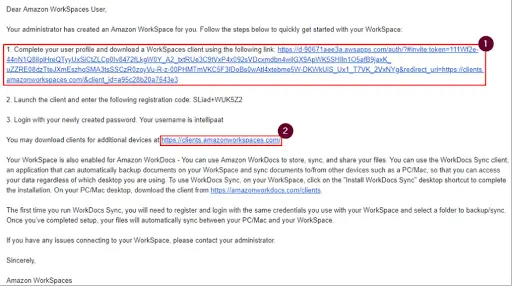 Just click 1 and fill up the details,
Step 4
Now, you will be directed to the Client download page automatically from the previous link. Or, you can click on the link which is marked 2.


After the all installation, click on the Amazon WorkSpaces icon, and provide your registration code which is available in the mail that you have received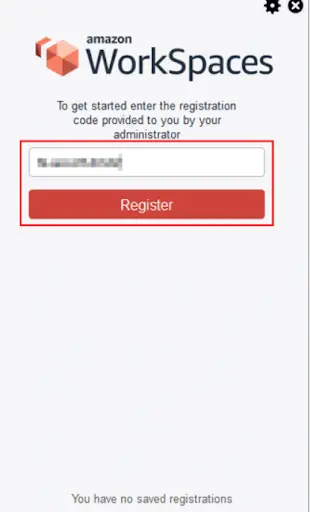 Then provide your Username and Password details and click on Sign in and you would be greeted with below screen.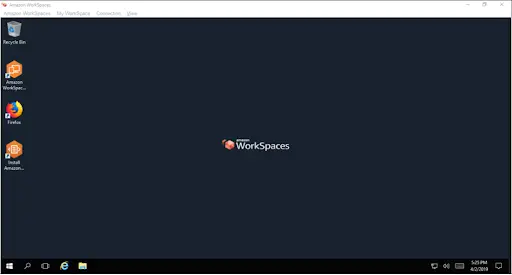 Congratulations, you have successfully launched your first WorkSpace! Use the similar approach for other employees and see the surge in efficiency and ensure safety as well. If at any point you need any help contact us and we'll get back to you and support you in getting the workspaces online.
Benefits
Happy and Secure employees
Simplified desktop delivery
Reduced costs
Control your desktop resources
Keep your data secure
Offer flexible desktop OS deployment
Sources