Eternal Web's Development Skills Reviewed on Clutch
July 12, 2021 / Nirav Shah
At Eternal Web, we help businesses accelerate their growth by facilitating digital transformations. We're an AWS oriented bespoke software development firm that provides custom software, business automation, cloud consultation, technical documentation, testing, QA, and more services. Our team's expertise covers a wide range of industries and technologies, and we're an official AWS Consulting Partner. Since 2013, we've been delivering secure, scalable, and solutions to businesses of all sizes.
Recently, we received reviews on Clutch that demonstrate our development proficiency. Clutch is a B2B market research company in the heart of Washington, DC, that aims to help businesses of all sizes identify and connect with the agencies they need to achieve their goals. They cover diverse industries, such as IT, advertising, and marketing, and their team of analysts conducts in-depth interviews with clients about the quality of their engagement with service providers. Clutch also carefully creates lists of the market leaders by industry and location, to enable companies to establish credibility and to allow buyers to find the right provider.
One of the reviews came from a logistics and manufacturing firm. Since their old ERP solution can no longer accommodate their needs, they hired us to implement a new and modern ERP. We copied the flow of their old platform and used that in building a new one from scratch. Additionally, we handled the UI/UX of the application. We used AWS cloud for this project.
We successfully delivered an ERP that automated, streamlined, and digitized the operations of the client. They praised us for our proactive approach, especially in dealing with errors. They also appreciated our professionalism and custom service skills. Varun Kabra, Managing Director of Maheshwari Logistics, said, "We've changed our minds many times throughout the development process. They're always very supportive in those cases, and it hasn't affected our relationship."
Due to the success of our partnership, the client gave us five-star ratings across all metrics!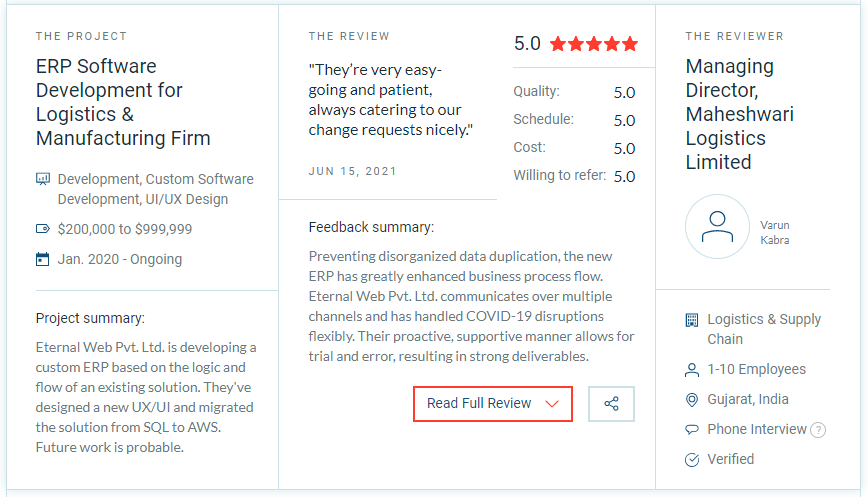 We also received a review from a gift retailer. We helped their team by providing web development and hosting services. Some of our tasks included WordPress development, PCI compliance, resolution of AWS hosting issues, and more.
We successfully delivered effective and long-lasting solutions on time and within specifications. The client praised our team's talent, professionalism, and easiness to work with. Additionally, they commended us for our swift turnaround. "Eternal has given me pure peace of mind in everything they have done," said Jason Stanley, Proprietor of Allards. "They are extremely affordable, and they can handle any task. They are an invaluable asset to my company." The client also reflected their praise with their rating, as they rated their overall experience of working with us five-star!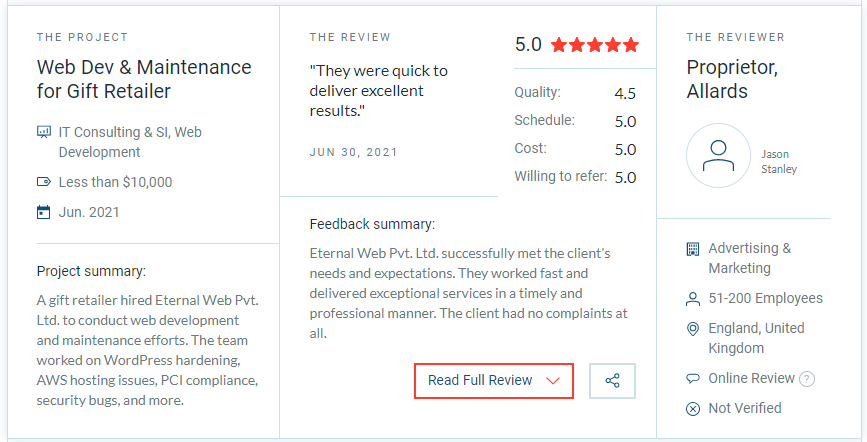 The Manifest, a sister website of Clutch, recognized our efforts and named us a Top Python & Django Development Company! The Manifest is a business news and how-to platform that analyzes and compiles industry data. They serve as a helpful guide for entrepreneurs, SMB owners, and industry managers to connect with top agencies. That said, we're thrilled to be listed on the Manifest!
We thank Maheshwari Logistics, Allards, and all our clients who gave us a review on Clutch. Your detailed and unbiased feedback gives us insight into our work, and it helps us identify our strong and weak points. Additionally, your praises motivate our team to improve our services!
We offer a full spectrum of application design, development, and maintenance services. Contact us today to learn more!