Welcome to Alexa's Blog!
November 25, 2020 / Nirav S
Speech is a natural form of expression, and voice is considered to be the easiest way to interact with technology without manually typing anything. This makes voice-controlled actions and devices universally acceptable in the routine life of a normal person. For example, with ease of access to voice technology, you can talk to Alexa even in your car. The recent development in natural language understanding and processing has increased accuracy, making voice technology easier to use and more reliable than ever before.
Now let us talk about the Echo family of products from Amazon.
The Echo family of devices include the
Echo Show and Echo Spot are speakers with a built-in microphone and connect to the Alexa voice service running in the cloud via Wi-Fi.
There are several skill types, to begin with:
1. Custom skill
This gives you an unlimited insight into the client experience characterizing your own custom voice association model.
2. Smart home skills
These skills are using a pre-built voice interaction model.
3. Flash briefing skill
This skill is for building an aptitude that gives a short review of news or other any short content.
4. Video skills
It is for providing video content such as movies and TV shows.
5. Music skills
These allow you to provide audio content such as radio stations and songs etc.
A few new types of skills have recently been added as well, like baby activity, meeting skills, and many more.
Alexa for business permits employees to utilize the Alexa skills to enhance their productivity resulting in an overall increase in productivity for an enterprise. Alexa for business also provides tools to help organizations configure private skills that boost employees' productivity, and manage Alexa devices across an organization, and enroll employees along with their devices. This has been a quick look at the ways to increase productivity with Alexa and how organizational goals can be met through it.
Now let see the setup environment in the console.
First, download and install Python and launch a virtual environment and SDK for Python to develop an Alexa skill. This library helps us to programmatically access Alexa resources from our Lambda function code. For IDE we can use Visual Studio Code and we will install the python plugin on that.
So basically there are two options
Prerequisites
The ASK SDK for Python requires Python 2 (>= 2.7) or Python 3 (>= 3.6).
set up the SDK in a virtual environment.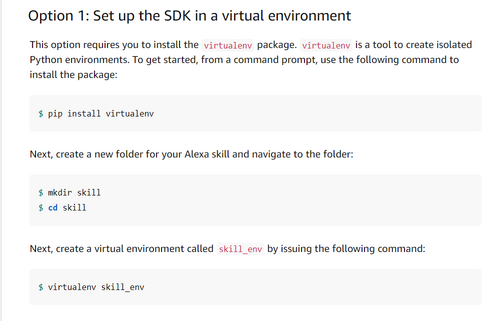 you can set it up in a specific folder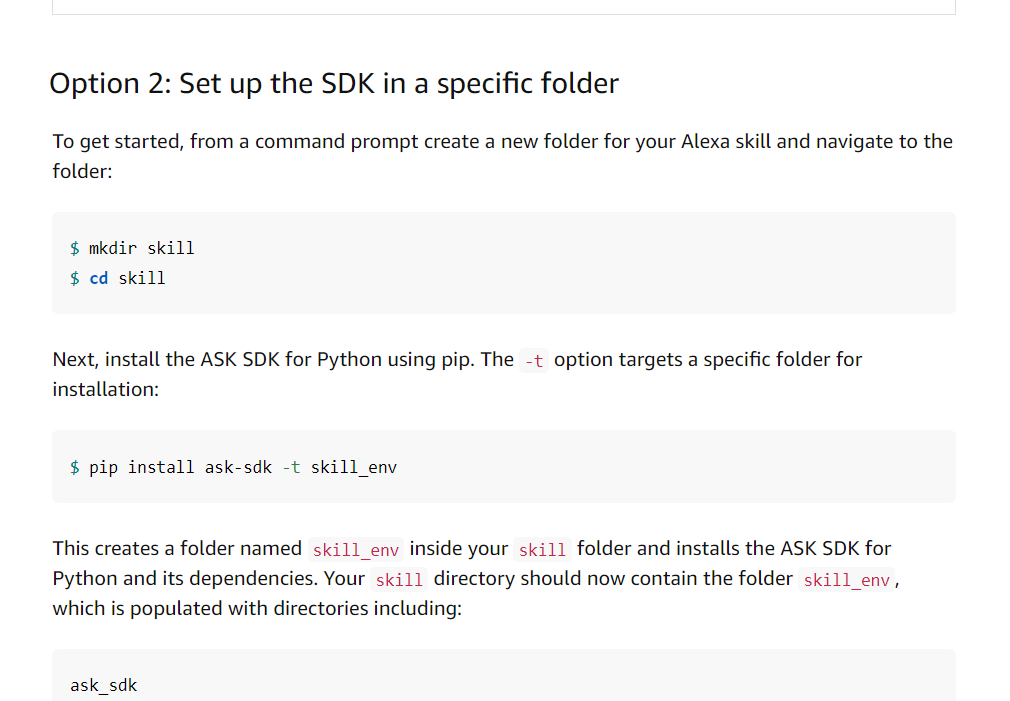 Follow the steps in this guide, setting up the ASK SDK.
Here's the Link
Conclusion,
In this blog, we learn about Alexa's skills and its type and how we can set up in the console using one of many methods.